| | | | |
| --- | --- | --- | --- |
| | Stafford Speedway 2019 - Day & Night | | |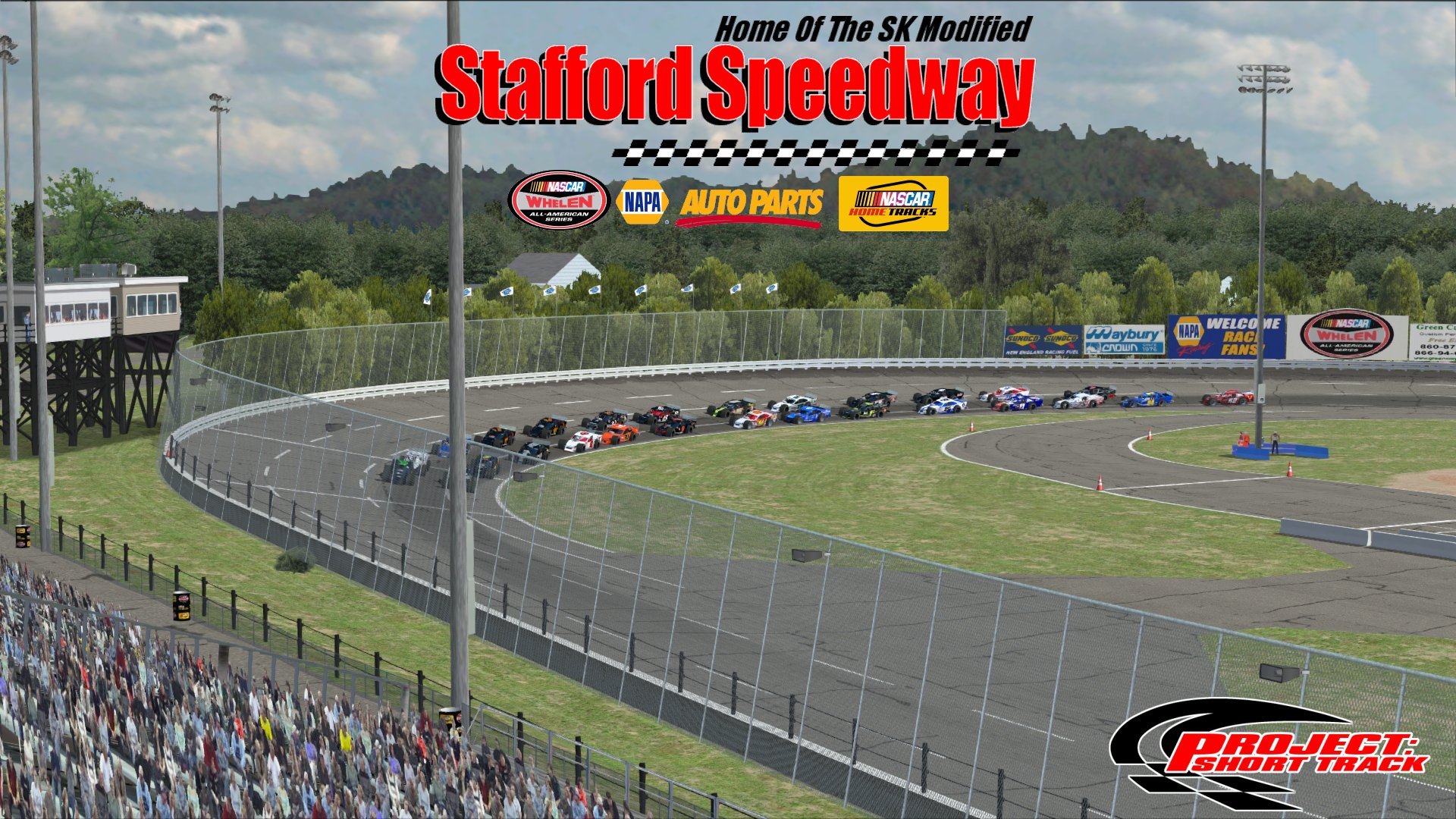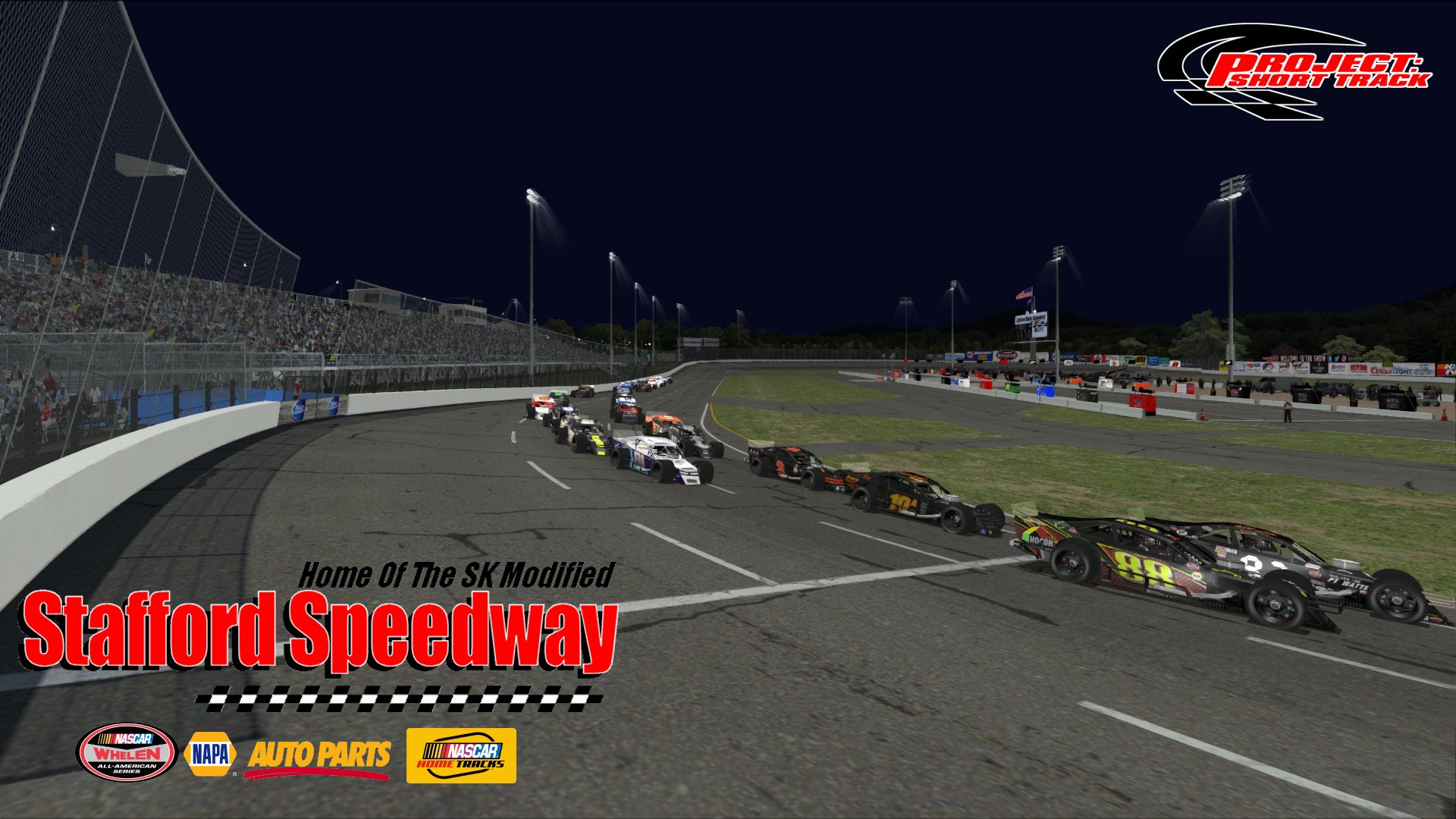 It's truly amazing how the time has flown by. 16 years ago in 2004, I worked with Folco Banfi on the original Stafford track for NR2003. At the time, there were scant few short tracks available for NR2003 making it's release a very popular one. In 2008, I updated the original with improved a.i., graphics and an added night version. Those versions have stood the test of time with NR2003 short track enthusiasts, but quite honestly were long overdue for another facelift. I wanted to give them the full PST treatment with our improved objects, features and detailing of our other most recent short track creations.

Over 200 improvements, enhancements and changes have been made in these new 2019 day and night versions of Stafford. Here's just a short list highlighting the new things you'll immediately notice:

• All new billboards with accurate 2019 sponsor graphics.
• New grandstands and 3d crowd objects throughout.
• New towers atop the frontstretch grandstands modeled perfectly to match their real life counterparts.
• New suite tower objects in turn 4 accurately modeled to match the real ones.
• Accurate catch fencing texture.
• New black cable posts along the frontstretch.
• New MUSCO Light towers.
• New accurate racing surface textures.
• New Scoreboard and related graphics.
• New higher definition 3D tree objects.
• Improved and more accurate areas around outside of track.
• Added realistic shade and shadow highlights for late afternoon racing and dynamically lit objects.
• Enhanced and improved a.i. featuring 2 racing grooves.
• Improved night environment with PST session progressive night skies.
• Many more new features too numerous to mention.

These new versions of Stafford will produce a very satisfying racing experience against the a.i. with it's 2 distinct racing grooves. As is customary with our PST releases, we have provided baseline Fast setups to get you up to speed and competitive right out of the box and with a huge starting grid of 35 cars, you'll find you're in the middle of intense racing action from the drop of the green to the checkered flag.

WARNING. Highly Detailed Graphics Rich Track. In an effort to duplicate the details of the real Stafford Motor Speedway facility and capture as much immersion as possible for the end user, we have poured a ton of high-resolution objects and detailing into this project. Please be advised that this track may tax the ability of some computers. We apologize in advance if this is the case for you. If you are experiencing difficulty running this track and your frame rates are dropping below 30 FPS, we might recommend installing the 4GB Patch offered at NTCore.com (https://ntcore.com/?page_id=371).

As is the case on all of our PST projects, I want to thank my friends Ben Althen, Ian Smythe and Wayne Anderson who all made significant contributions to this project. I also want to remind everyone to PLEASE be sure to read the CREDITS README file provided with the track for important info on getting the most enjoyment out of it.

So here's another "gem" for your short track schedules from the "guys who make short track racing a virtual reality".... PROJECT: Short Track presents Stafford Motor Speedway! Enjoy the thrill!


---

DOWNLOAD :

Stafford_2019.7z (7zip Archive 78.1MB)




---